Here's the Latest Account Verification Method on Instagram Check Blue.
Instagram launched a new way for users to submit account verification directly from the application.
This new way is intended to help users know the authenticity of accounts from public figures, such as celebrities, global brands or other well-known entities. "We listened to users' requests for easy access to verification on Instagram. We hope this new method can better protect Instagram users from the lure of verification from other parties and help our users around the world to understand and navigate the verification process on Instagram," said Instagram representatives in an official statement received detikINET, Tuesday (08/14/2018).
To get verification, an account must meet the Terms and Conditions and the Instagram Community Guide.
Photo: Detik.com
Besides that Instagram never asks for payment for account verification.
This Facebook subsidiary will review the verification request to confirm the authenticity, completeness, and eligibility of each account.
Authenticity: Your account must represent the original person, or the business and registered entity

Completeness: Your account must be in a public account, have a bio, profile photo, and at least one post.

Feasibility: Your account must represent well-known individuals, brands, or entities and are often sought after.
We also review the feasibility of accounts from news published by several mass media.
We do not consider promoted content as a condition of eligibility.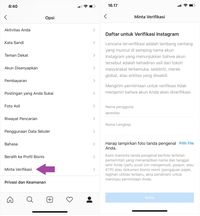 To access the verification request form, just open the profile then tap the gear icon and select the "Request Verification" option.
Users will be asked to enter their username, full name and attachment from their official identity or business.
Submitting verification does not guarantee that the user's account will get verification.
After the request is received and reviewed further.
The user will get information that the request has been received or rejected through the notification tab.
This article was published on the detik.com site Entitled:
This is the New Way to Verify the Blue Account on Instagram
How do I request a verified badge for my profile?
To request a verified badge, you must be a public figure, celebrity, or business actor and fulfill certain account and eligibility requirements.
To request a verified badge:
Make sure you are logged in to the account you requested for a verified badge.

Go to your profile, then tap the menu.

Tap Settings> Request Verification.

Enter your full name and provide the required proof of identification (for example: photo ID issued by the government).
Note that even though your account is eligible for verification, sending requests does not guarantee your account will be verified.
Find out what happened after you registered for verification.